Accdon was proud to lead an educational session at the 44th Annual Meeting with the Society for Scholarly Publishing (SSP) titled "Getting Authors and Publishers on the Same Page: A Global Conversation." Organized and moderated by our Research Communications Strategist, Dr. Avriel Licciardi, this hybrid session connected industry professionals and researchers directly. Panelists provided valuable insight on how the greater publishing community can address the uncertainties and questions that researchers encounter within the scholarly publishing industry. Via an open conversation between the audience and panelists, SSP attendees had the opportunity to hear and share perspectives, in an effort to increase transparency and inclusivity within the global scholarly community.

"It was a pleasure to attend the 44th Annual SSP Meeting in person this year. Our session was a success, and we hope to continue bringing industry professionals and authors together through future outreach initiatives focusing on reducing uncertainty and increasing benefits for all involved in the global scholarly publishing community," Dr. Licciardi comments.

SSP is an important part of the scholarly publishing ecosystem, and the return to in-person meetings was a welcome development for Accdon and its communications team. Dr. Clark Holdsworth, Senior Manager of Communications & Partnerships reflects on the value that SSP provides: "The SSP Annual Meeting is such a crucial platform for the industry. Our landscape is constantly shifting as publishers respond to author and academic community demands. This year, the pertinent discussion surrounding new content formats—such as conference recordings and webinars—and rapid industry consolidation will be instrumental in guiding us forward into 2023. My team¬ in particular is extremely excited for the evident partnership opportunities available to Accdon with so many new, author-connected platforms becoming available in the industry."

As Accdon leadership, such as Drs. Licciardi and Holdsworth, continue to contribute to SSP through active committee participation, we look forward to new and exciting collaborations among the scholarly publishing community. With conference season underway, Accdon will be present at upcoming meetings for the American Chemical Society, Society for Neuroscience, and American Geophysical Union.
---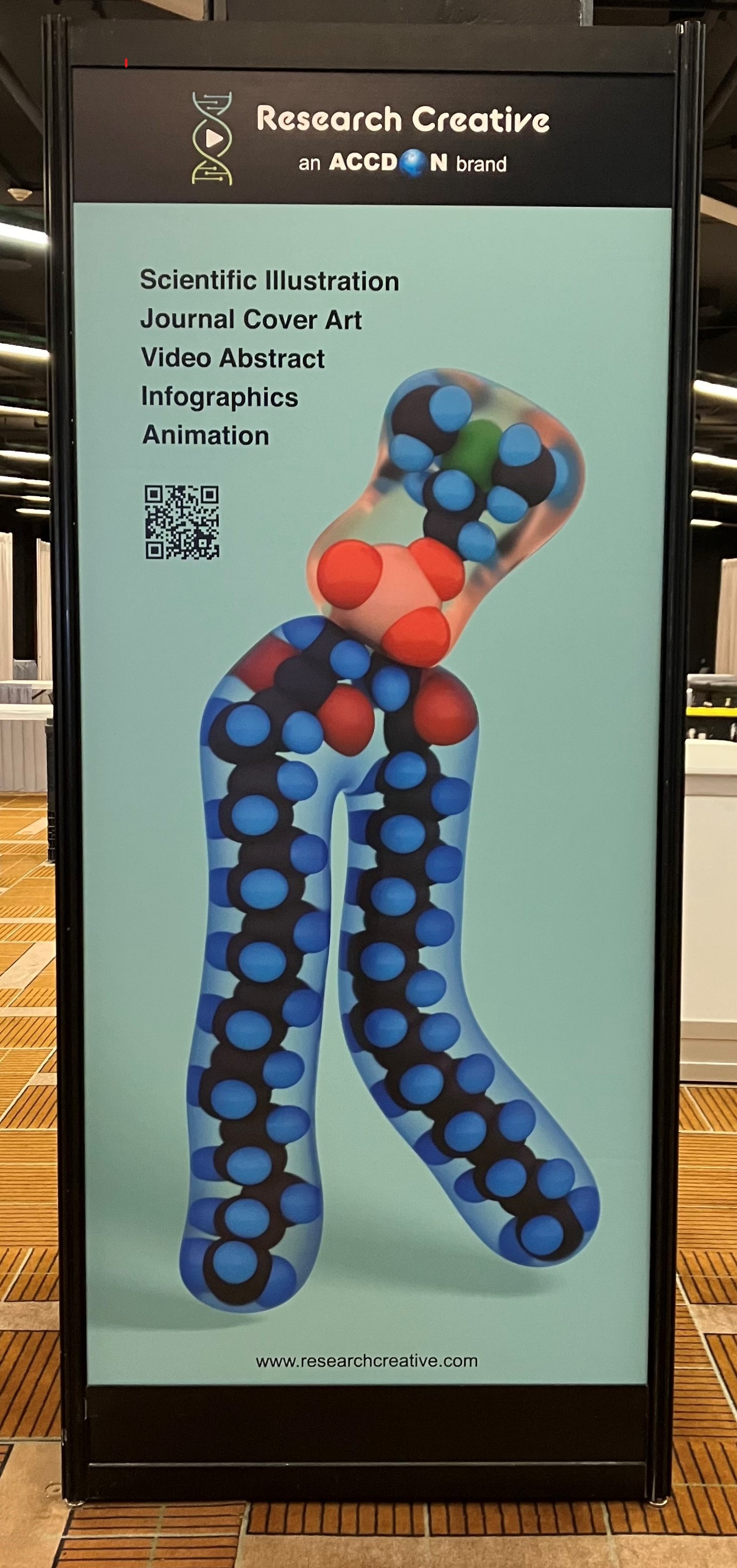 Our new brand, Research Creative, was a conference sponsor this year.
Research Creative is a division of Accdon, a forward-thinking business focused on assisting the global research community in achieving effective scientific communication. Founded in 2021, Research Creative builds on Accdon's 11 years of experience as an industry-leader in editorial and publisher support services. Specializing in the creation of useful and engaging scientific content for a global audience, Research Creative utilizes your scientific or industry insights to craft custom, personalized research communications or marketing solutions.
---
Dr. Avriel Licciardi leading the panel.
Getting Authors and Publishers on the Same Page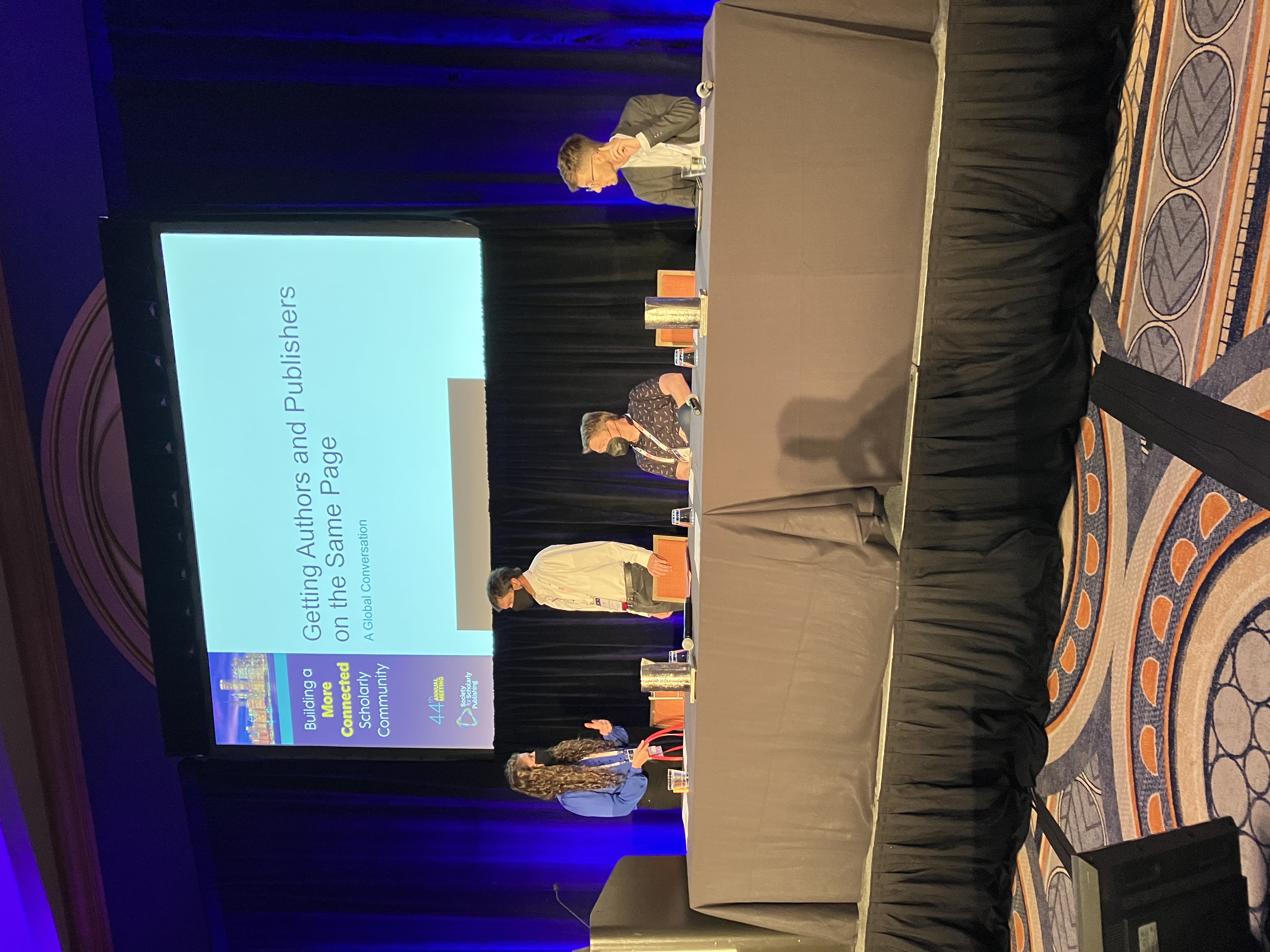 ---
About Society for Scholarly Publishing | https://www.sspnet.org/
The Society for Scholarly Publishing (SSP), founded in 1978, is a nonprofit organization formed to promote and advance communication among all sectors of the scholarly publication community through networking, information dissemination, and facilitation of new developments in the field. SSP members represent all aspects of scholarly publishing — including publishers, printers, e-products developers, technical service providers, librarians, and editors. SSP members come from a wide range of large and small commercial and nonprofit organizations. They meet at SSP's annual meetings, educational seminars, and regional events to hear the latest trends from respected colleagues and to discuss common and mutual (and sometimes divergent) goals and viewpoints.
About Accdon, LLC| www.accdon.com | www.letpub.com
LetPub, the flagship editorial brand of Accdon LLC, is the only author services company headquartered in the Boston area. LetPub helps authors from around the world publish and share their research. LetPub's language and scientific editors are leaders in their fields, teach at top American universities, and hold industry-leading credentials such as the Board of Editors in the Life Sciences certification. LetPub editors specialize in biology, chemistry, computer science, engineering, environmental sciences, geology, humanities, material science, mathematics, medicine, physics, social sciences, and more. LetPub provides expert English editing and research communication services as well as editorial support packages for journals, academic societies, and publishers. To find out more about our expert services and to get a quote visit www.letpub.com.